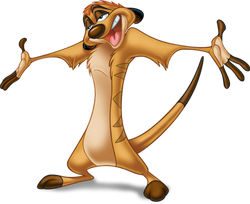 These are quotes and lines spoken by Timon from Disney's The Lion King.
Films
The Lion King
Geez! It's a lion! Run, Pumbaa! Move it!
Pumbaa, are you nuts? We're talking about a lion; Lions eat guys like us!
He's gonna get bigger.
A - huh! That's the stupidest thing I ever heard. Maybe he'll b-... Hey, I got it! What if he's on our side? You know, having a lion around might not be such a bad idea.
Who's the brains in this outfit?
My point exactly.
I saved you. [Pumbaa snorts] Pumbaa helped... a little.
Gee. He looks blue.
No, no, no. I mean he's depressed.
Nothing, he's at the top of the food chain! [laughs] The food chain! [chuckles nervously]
So where you from?
Ah, you're an outcast! That's great. So are we.
Good. We don't wanna hear about it.
No, no, no. Amateur. Lie down before you hurt yourself. It's "You got to put your past behind you."
Look, kid. Bad things happen, and you can't do anything about it. Right?
Wrong! When the world turns its back on you, you turn your back on the world.
Repeat after me. [clears throat] Hakuna Matata.
Nothing. What's a motto with you? [laughs]
How did you feel?
[clapping Pumbaa's mouth shut] Hey, Pumbaa, not in front of the kids.
Ah-ha, we're fresh out of zebra.
Nah-ah.
Nope. Listen kid: if you live with us, you're gonna have to eat like us.
This looks like a good spot to rustle up some grub.
A grub. What's it look like?
Tastes like chicken.
[seeing a red beetle] These are rare delicacies. [takes it and eats it] He comes with a very pleasant crunch.
I'm telling you, kid: this is the great life. No rules, no responsibilities... [he reaches into a hole in a log and various insects skitter out, with him holding a blue bug; he points to the rest of the insects] Ooh! The little cream-filled kind!
Pumbaa, I don't wonder; I know.
They're fireflies. Fireflies that, uh... got stuck up on that big bluish-black thing.
Pumbaa, with you, everything's gas.
Yeah?
You mean a bunch of royal dead guys are watching us?
[Trying to push Pumbaa, whose stuck under a log, while running away from a Lioness] Why do I always have to save your... Ahhh!
Let me get this straight. You know her. She knows you. But she wants to eat him. And everybody's okay with this? [jumps up suddenly] [yells] Did I miss something?
It's not gravel, it's grovel.
Let me get this straight. You're the king? And you never told us?
But with power!
Hey, whatever she has to say, she can say in front of us. Right, Simba?
It starts. You think you know a guy...
I tell ya, Pumbaa, this stinks!
Not you, THEM! Him... Her... alone.
[singing] I can see what's happening.
[singing] And they don't have a clue.
[singing] They'll fall in love and here's the bottom line: Our trio's down to two.
[singing] [sarcastic, with French accent] The sweet caress of twilight. [normal voice, but still sarcastic] There's magic everywhere. And with all this romantic atmosphere, Disaster's in the aiiiiiiir!
[to Nala, after she accidentally surprises him] Don't ever do that again! Carnivores, ugh!
I thought he was with you.
Gone back? What do you mean? [He looks to the tree. Rafiki has disappeared] Hey! What's going on here? Who's the monkey?
Who?
The monkey's his uncle?
[of the decimated Pride Rock] We're gonna fight your uncle... for this?
Whoa. Talk about your fixer-upper.
Hyenas. I hate hyenas. [whispers to Simba] So what your plan for getting past those guys?
Good idea. [reacts] Hey!
What do you want me to do, dress in drag and do the hula?!
[singing] Luau! If you're hungry for a hunk of fat and juicy meat Eat my buddy Pumbaa here, 'Cause he is a treat Come on down and dine On this tasty swine All you hafta do is get in line. Arrrre you achin'...
Forrrr some bacon?
He's a big pig.
You can be a big pig, too. Oy!
[fleeing the hyenas] Lemme in! Lemme in!
Please don't eat me!
Uh-oh! They called him the pig.
Shouldn't have done that
Now they're in for it!
The Lion King II: Simba's Pride
No worries, Simba. We're on her like stink on a warthog.
It's the hard truth, Pumbaa. Live with it.
The good news is, we found your daughter. The bad news is, we dropped a warthog on her.
Pumbaa, let me define BABY-SITTING!
I'm sorry, I wasn't listening. Did you say something, Princess?
That's not a king. That's a fuzzy maraca!
Tango-Charlie-Alpha. What's your position?
[speaks under his breath] Why do I bother?
[he and Pumbaa narrowly escape being trampled by a herd of antelope] This must be where the deer and the antelope play!
AHHH! Don't eat me, please! I... I never really met your tyrant, I mean, uh, Scar! Scar, oh heck of a guy. A little moody, but...
Kiara! Thank goodness! Oh. Hey, for once, we're not following you. This just happens to be the best smorgasbord in the Pride Lands! Bugs everywhere! But, you don't call for a reservation and... yeesh!
Yeesh! You need to get out more. Fun! Yee-ha!
No, you were going to watch her.
Take that, you creepy warthog! Say it, fat! Fatty fat fat.
Good question. Uh, let me ask you one.
Very hypothetically. There's this guy...
No. No, he's not a lion. Yeesh, definitely not a lion... and uh... uh, his daughter, um, say... vanished?
Boy, does she need a hobby.
[holding Pumbaa's tail] Don't anybody move! This things loaded... I'll let you have it!

The Lion King 1½
[singing along to opening of "The Lion King"] What's on the menu? It could be ceviche. It's stinky. Ooh it's Pumbaa.
Yes, Pumbaa. Well, enough of that. [fast forwards film with his remote]
I'm fast forwarding to the part where we come in.
Au contraire, my porcine pal. I've got the remote.
[fast forwarding] We're not in the beginning of the story.
[fast forwarding] Yeah, but they don't know that.
Hey, I've got an idea. Why don't we tell them our story?
[commenting on his home] Here we are... from Pride Rock, to the Pit of Shame.
[about his species] We're so low on the food chain we're underground!
Funny, I thought you were going in a whole different direction.
Oh, boy. It's the fraught fest.
[clapping] Bravo, Uncle Max! Way'ta sell it to the cheap seats!
But when they die, they become the grass, and we eat the grass, right?
[to Mom] He has a point.
[camera pans over to Timon] Well, now I'm convinced... .
Scream, "MOMMY!"
[terrified] Hy... hy... hy...
What's going on here? Pumbaa, are you sitting on the remote?
I uh, I guess I owe everyone an apology. All right so I made a teensy mistake, like we all haven't broken into song on sentry duty before uh-haha come on, let me have a show of hands! Ooook.
[is being hugged by his mother] Ma... . choking... . not breathing...
And so with my spirits high I boldy ventured off where no meerkat had dared to go before. I put my past behind me Ha! and never looked back. [sobs hysterically] Mommy, Mommy! What am I doing? Which way should I go?
Harpoon a tomato?
Perfect! Mind taking that stick of yours and drawing me a map, bub? [Rafiki smacks him over the head with his stick]
It's coming to me. It's either that slug I ate, or I'm having an epiphany.
Oh, I thought you were a "scream"
I'm Timon.
No, really.
It's as if you have some special power.
This could be the start of a beautiful...acquaintanceship.
Hey-ey-ey, it's the monkey!
Aw, who cares? It's not important.
[mimicking Rafikki] Look beyond what you see.
So, that's your special power?
Are you kidding? It was a gas! [starts laughing]
Yeah, that's probably for the best.
Well, that worked like a dream.
Sarcasm is a foreign language to you, isn't it?
Oh, perfect! We moved into the theater district. Get a load of these guys. Knock it off!
I see carnivores.
I am perfectly happy right here. It's remote, private, no unexpected visitors... . [the shadows of hyenas march across the wall, as the intro to "Be Prepared" plays] Something tells me that ain't the traveling company of Riverdance.
What this place lacks in water and shade, it makes up for with searing heat and blinding sunshine. Home, sweet home, Pumbaa!
Oh yes, let's.
Friends stick together to the end.
How convenient. Enter omniscient monkey, right on cue.
That's it. No more fortune-cookies for you!
The monkey was right! We found it! The perfect life!
He had the perfect name for it, too.
[sits at a rock] Such a wonderful phrase. It had this rhythm. Laduda Ladada.
Hmm. No, that's not it.
Quiet, Pumbaa. I'm trying to think.
Two words.
Six syllables.
Twelve letters.
Rhymes with... .
Think, think, think.
I forget.
HEY! How can you dance at a time like this? I'm DYIN' here!... . Ooh, sorry about that, pal.
....Come again?
Who knows why fate led us to little Simba? [images of Simba scaring Timon run throughout the scene] Maybe it was my love of adventure, my innate courage, or my... . Okay! Who's in charge of the freeze-frames?
Anywho... . Rescuing Simba was a cinch. Then came the real scary part: [dramatic music] Parenthood.
(Voice very faint) Go? Go where?
[gets the idea] Oh, you mean go?! Then why didn't you say so?! Come on, let's go! (On the log bridge) Listen, kid, when you gotta go, you gotta go!(On a very high tree, "Jungle Boogie" plays)Young lion, get down from there!
I'm counting to three!
One! Two!(Pumbaa jumps onto Timon, making a pillow for Simba to land on)(Gasping for air) Threeeeee.
Wha? Again?!
ou know, kid, this means you'll be up again about 2 hours from now. (Location: A river leading to an 500 ft waterfall. "Jungle Boogie" plays while Simba swims peacefully. A floating camera captures Timon swimming vigurously.) Hang on, Simba! I'll save ya! (Simba goes off the waterfall; Pumbaa catches him.) (falls) YYYYYYYYYYYYAAAAAAAAAAAAAAAAAAAAAAAAAAAAAAAAAAAAAA!
(extremely tired) You know, I'm gonna get old walking over this thing. (Simba Pounces Timon in the Air, "Jungle Boogie" plays for a final time.) YYAAAAAAAAAAAYAYYYYYYYYYYAAAAAAAYAYYYYYYYAAAY!
(Angry with bloodshot eyes) WHAT HAVE YOU GOT AGAINST THE CONCEPT OF A GOOD NIGHT'S SLEEP, HUH?!
Sleep tight.
I'm out!
We can't let them feel the love tonight.
(about Simba) He's gone? Whaddaya mean he's gone?!
Yes please, but be a dear and skip to the part about Simba. Not that your childhood wasn't fascinating!
(thinks) Blah blah blah. Why is she toying with us? This crazy chick is gonna eat us!
You! No, no, don't say a word. I know what you're going to say. [Imitates Rafiki] Did you find Hakuna Matata? [Normal] Well, yes, I did! Thank you very much. [Laughs] And I am happy. Happy, happy, deliriously happy. [Imitates] Ho ha ha! I see. Happy, is it? So, if you're so happy, why do you look so miserable? [Normal] Miserable, you say? Why should I be miserable? Oh, I don't know. Maybe my two best pals in the world deserted me. Heh. They - they've headed off on some heroic mission... . My friends... . are gone. [Realizes] And... . my Hakuna Matata went with them!
Ay. Thanks. I'm glad we had this talk.
[singing] [from the movie] Luau! If you're hungry for a hunk of fat and juicy meet / Eat my buddy, Pumbaa, here 'cause he's a... . [Timon pauses the movie] Let's just cut to the chase, shall we?
Ahh... . I love the smell of Pumbaa in the morning.
Hey Pumbaa, what do you call a hyena with half a brain?
GIFTED!
Waaait, wait, wait, wait. Hold on a second.
Shenzi Marie Predatora Veldetta Jacquelina Hyena... . would you do me the honor of becoming... . my bride?
Shenzi Marie, please. I know what you're thinking: "We're too different." "It'll never work." "What will the children look like?"
Listen to me! The problems of a couple of wacky kids like us don't amount to hill of termites in this nutty circle-of-life thing. And so I ask you: If not now, when? If not me, who? I'm lonely.
Well, now that we're all here, it does.
The Lion King & The Iron Giant
The Lion Guard: Return of the Roar
"Don't worry, ladies. Me and Pumbaa have everything under control."
"Zuri! You hit the jackpot!"
"It's worse than that, Pumbaa. It sounds like work."
"Work? Danger? Definitely not. Have you forgotten our problem-free philosophy? It means no worries . . ."
"Congratulations, Bunga! We always knew you had it in you!"
Television
Timon & Pumbaa
Pumbaa, we're trapped in a crate!
Poppycock!
Oh, crud! Now we definitely can't eat him!
I got it! We'll call you Speedy! Speedy the Snail! How do you like that juxtaposition? Giving a snail, a noticeably slow creature, the name, Speedy, huh?
Like who? We're in a box! It's not like we're in France where snails are considered a delicacy.
Oh, no-no-no-no-no! He is with us!
We're in France, where snails are considered a delicacy.
I want a snail! Raw! And by that, I mean uncooked, meaning still alive!
Yes. With cute little gumdrop eyes and a swirly, curly-cue shell.
[nervously] I am a human.
Hey! You're the Pumbaa de Milo!
This is no time for comedy, Pumbaa! Our bestest new pal, Speedy, is still in life-threatening danger!
[sarcastically] What do you want me to do, dress in drag and do the hula?
Of course I did, Pumbaa. That's why they gave me such a big reward.
Isn't it ironic? That was the exact amount of the reward! [a police siren is heard] Uh-oh!
[as Pumbaa gets angry at Timon for not finding gold] Pumbaa, there's just one thing that frightens me more than mummy beetles and curses.
[loses it] An angry warthog! [Timon screams as the screen goes black]
[confused at two Pumbaas] Pumbaa, if you're Pumbaa, then what Pumbaa is that Pumbaa?
[furiously, picks the fox up by the scruff] Wait just a minute! You mean to tell me that this was just a stupid game of tag?! [the fox smiles and quickly nods]
Uh oh.
He called him a pig.
Shouldn't have done that.
House of Mouse
Waiter, there's a fly in my friend's soup! I want one too! Hey, Simba, what did you get in your soup?
Excuse me. Did anyone order a blue-butt baboon? Because I ain't eatin' it.
Ooh hoo ha! Older than Rafiki! Ha ha ha! [Gets clubbed on the head by Rafiki]
He he he! [Gets clubbed on the head by the Wicked Queen]
The Lion Guard
"Yeah! And in Bunga's case, he's a stinky little honey badger!"
"Dinner is served!"
"Whoa, whoa, whoa. Not so fast, kids."
"All right, all right. Everybody back in line. No more freebies."
"Come on, kid, er, I mean, Your Sage-iness.
"You're too kind."
"You said it, Pumbaa. He's even given the Lion Guard advice. Anybody remember a little thing called the dam?"
"Bunga! The bird said a snake bit you on the bottom."
"But he's not! He's fine. So let's celebrate!"
"You're right, Pumbaa. It is. Friends don't let friend eat alone!"
"Not this girl cheetah! Not today! You're eating with us, and I'm not taking no for an answer."
"Good, good. Oh, wow. You are so soft. Do you know how soft you are?"
"Come on, Pumbaa. The Utamu grubs only come out once a year. And this year, we're gonna get 'em."
"Keep him? No. No more kids. We already raised a lion, remember? Besides, he's a honey badger. He can fend for himself! So long, kid. Thanks for the grub!"
"Can we? The little Bunga got us the most delicious grubs in the Pride Lands! How can we not? C'mon, Bunga! From now on, you're with us!"
"Eh, Bunga. Utamu grubs are great. But that's not why we celebrate."
"Besides, this year . . . We got the Utamu!"
"Why? Why? Oh, cruel savanna, to take both of our babies in the same day!"
"See? Barely inside and we're already lost!"
"Sorry I lost it back there, Kion."
"And just let them into your heart, you know, just enough, and . . . and then . . ."
"And to think . . . you were worried that we'd never find them."
Video Games
Kingdom Hearts II
"Hey, why the long face, Simba? You gotta lighten up and live a little!"
"Lemme guess. The past, right?'
"Would you look how he's grown, Pumbaa. Why, when I rescued the little guy, he was only this big."
"Help! Simba! Heeelp!'
"Hey! What's goin' on here!?"
"Why am I not surprised?"
"Why doesn't Nala like Hakuna Matata? It's a wonderful phrase that means no worries, no cares! Live for today!"
"So, you're returning to the Pride Lands... You can prepare for your journey here. Whatever you do, don't get hurt."
"Wait a minute. We're gonna fight your uncle for THIS?"
"'Scuse me! Pardon me! Comin' through!"
"If Scar's alone, I'm sure Simba can handle it, but who knows what he has planned? Please, Sora. Go make sure Simba's all right."
"Hey, what's with the light show?"
"Whaddaya mean, "Guess so"!? What if he forgets to tell the carnivores who we are? One look at you, and you're a pig roast."
"We know your dad was a great king, and all. But now it's your turn. Remember what I taught ya. "You gotta put the past behind you." It's time to go out there and show everybody things are gonna be just fine!"
"Great! Now we're going to have to babysit!"
"He seemed troubled by a lot of things when we lived at the oasis. He's gotten so huge, but the most important part of him never grew up."
"Hey, I know! He's at the oasis. It's our favorite hangout!"
"Oh, no you won't! Simba'll smell you coming a mile away. And if he's smart, he'll run for the hills!"
"If you're looking for Simba, he probably went to the oasis. It's quiet there, and the perfect place for thinking."
"Simba! Come quick! There's a bazillion ghosts of Scar haunting the Pride Lands! Everybody but Nala high-tailed it out of there. And now she needs your help."
"It looks like something's riding on top of that monster! It couldn't be controlling it, could it?"
Community content is available under
CC-BY-SA
unless otherwise noted.