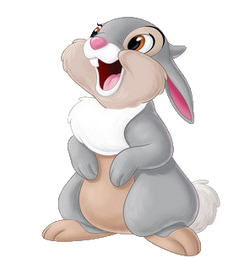 Quotes and Lines spoken by Thumper from the classic film Bambi.
Films
Bambi
Wake up, wake up!
Whatcha gonna call 'im?
Bambi... Yep, I guess that'll do all right.
He doesn't walk very good, does he?
Yes, mama?
If you can't say something nice... don't say nothing at all.
I'm thumpin'! That's why they call me Thumper!
Those are birds.
Look! He's trying to talk.
Say "bird".
Bird.
Uh-uh... bir-duh!
No, that's not a bird. That's a butterfly.
[giggling] No, that's a flower.
[laughing hysterically] No, no, no, no! That's not a flower! He's a little...
It's delicious! Why don't you try some? [Bambi grabs a bunch of clovers with leaves and stems on them] No, no! Not that green stuff! Just eat the blossoms! That's the good stuff!
Yes, mama?
About what?
Oh, that one. [clears throat] Eating greens is a special treat. It makes long ears and great big feet. [to Bambi] But it sure is awful stuff to eat. [whispers] I made that last part up myself.
Hiya, Bambi! Watch what I can do! [jumps into the frozen pond and slides on the ice] Come on, it's all right. Look. [thumps on ice] The water's stiff.
Whatcha doin'? Hibernatin'?
Why are they acting that way?
Gosh, that's awful!
Well, it's not gonna happen to me.
Bambi II
Being brave is easy.
Sure, watch this. Argh!
No, silly. I'm being brave. All you got to do is be scarier than whatever's scaring you.
I'm a mountain lion! Raarrgh!
Why are they acting that way?
Clobber him, Bambi!
[sing song tone] You're too afraid! You cannot jump! Nah Nah Nah Nah Nah Nah Nah Nah Nah Nah Nah... [Bambi jumps] Nah, nah, nah-- [looks up] AAAH!
[muffled] Yep. You did it.
[to Bambi] If you're scared, just be scarier than whatever's scaring you!
Oh, for crying out loud!
[about his sisters] You know, they're okay for sisters. It's just too bad they're girls.
Oops
[after Bambi leaves to spend time with the Great Prince] Aww, Bambi. You never have time for us anymore.