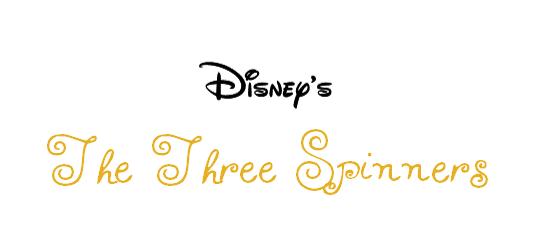 Disney's The Three Spinners is an upcoming American, traditionaly animated fairy tale, feature film produced by Walt Disney Animated Studios and it will be its second original fanon film, succeeding Disney's The Sky Kingdom. It will also host Disney's first fanon Disney Princess based on a real fairytale, Princess Angelica. Like Tangled, the story will be majorly overhauled with comical and laugh-out-loud scenes.
Plot
The plot will be based upon the Brothers Grimm fairy tale, The Three Spinners.
A girl whose named was Angelica, was a very good spinner. Unfortunately, overtime, she lost her mastering and good senses of spinning and becoming lazy of it. Her mother, Melissa, became very angry at her, and she was scolding at her very loudly to the point where the Queen, Queen Mary, overheard her and asked why her daughter is being scolded by her. Embarrased, Merissa told Queen Mary that her daughter spun so much that she ran out of flax. Then Queen Mary thought of a way to get a royal spinner. Queen Mary then kindly asked her and her daughter to come to the castle. More info later
Hateful Flax Spinning
Hateful Flax Spinning is an upcoming silent Disney theatrical short. It will be exclusively attached to Disney's The Three Spinners.
A king orders his queen and daughters to spin all the time. One day, he gives them a great box of flax to spin, to his daughters' distress. The queen invites three hideous old maids to come to the castle and spin. The king sees them and asks the cause of their deformities. They answer, from spinning. The king forbids his wife and daughters to spin again.
Music
Alan Menken will compose the score again. Tim Rice will also be the lyricist this time. The music styles will be 50% Broadway, 20% Jazz, 20% Carnival, 5% Medieval, and 5% 60's folk rock.
TRACK 1 - "The Spin Begins"
TRACK 2 - "Round The Flax"
TRACK 3 - "Spin That Spinner" by Grace Potter as "Angelica"
TRACK 4 - "Like a Carousel"
TRACK 5 - "Like a Merry-Go-Round"
TRACK 6 - "Just Take a Whirl"
TRACK 7 - "Twirl an Illusion"
TRACK 8 - "The Spin Ends"
TRACK 9 - "A Bright Fun Time" by Selena Gomez and Demi Lovato
Cast